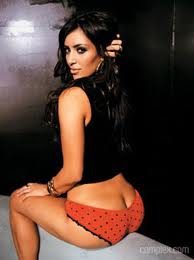 Jeremy Lin needs no introduction. Lin himself even said he is overwhelmed with how much he has been covered in his short time in the spotlight thus far. He has been a starter for 8 games and Saturday Night Live is already opening the show with a spoof on him. Lin's story has all the dynamics that would put him front in center as the top story
on a nightly basis worthy of the praise that he is getting. And do you know who would just love to have a little of that spotlight with him? No, not Kate Beckingsale, why would you even guess that? It's Kim Kardashian, of course.
It's being reported by various tabloid-esque papers that Kardashian came down with a mild case of "Lin-sanity" last week and that she has been going in and out of lin-conscious. Apparently Kim thinks Lin is a cutie pie and asked her friend and Carmelo Anthony's wife, Lala, to set them up on a double date. Personally, I think that this was all
orchestrated by Carmelo himself. With Lin distributing the ball so well, how's he going to shoot 45 times a game? And if he doesn't shoot 45 times a game, how's he going to score over 25 points on a nightly basis? Sending Kardashian to the nice, quiet Jeremy Lin would be literally steering a wrecking ball at the lin-sation. The Kardashians' have something in common with my friend Roberto when he walks into Golden Corral. They both are excited, anxious, and ready to destroy things in front of people. With Lin and the Kardashian camp denying reports, is it possible that this date will happen before the NBA Finals?
I am giving Kardashian the benefit of the doubt that she will use her talented….face…to lock up a date with the rising star. Bovada even gives Kim 5/1 odds that she can seal the deal. I mean, come on, nothing beats a candlelit dinner with Kim Kardashian and 5 cameras in your face knowing they will probably make the dinner out to be a fight. Although, she might be better off waiting until Lin can increase his popularity. Kim has, things, which require the spotlight to be wider than for most couples.