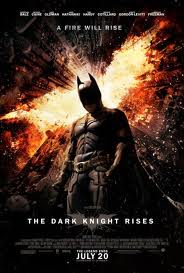 Now that the excitement over The Avengers has died down some there's a new fanboy flick on the horizon that some are saying will crush Marvel's motion picture, while others are saying there's just no way. It's Christopher Nolan's The Dark Knight Rises. Scheduled to debut in the middle of the summer, the last installment of the Batman series will be released on July 20th with stars Christian Bale in the title role, Anne Hathaway, Joseph Gordon Levitt, Michael Caine, Tom Hardy and Gary Oldman.
The Batman movie is said to pack a mean punch and should easily regain its strength at the box office once again after last being seen back in 2008 when the second installment broke records. But can it really beat Joss Whedon's Avengers that just made $500 million within 23 days of its release, conquering Avatar's record of $500 million within 32days?
Looking at straight facts, The Avengers has been one of the most talked about movies since its debut back on May 4th. The fact that its kid friendly, boasts a large amount of superheroes, and includes well known Hollywood actors like Robert Downey Jr., Scarlett Johansson, and Jeremy Renner, is also a plus for the film that has raked in global figures to date of $1,309,073,955. That's a lot of cash!
Meanwhile, 2008's The Dark Knight only earned a grand total of $1,001,921,825. That's not to say this latest installment can't break its own record or that of The Avengers. It is a movie that will bid farewell to the trilogy, and should be able to draw plenty of fans of all ages, especially the big kids with big pockets.
While the media and studio heads may be predicting that Nolan's upcoming movie won't be able to break records at the box office against The Avengers the betting odds say otherwise. Looking at the Movie Props from BetOnline Sportsbook, the odds do not favor a record breaker, at +185  in favor of The Dark Knight Rises, saying it will beat out The Avengers. On the other side of the line the odds are going off at -225 saying it will not manage to overthrow Iron Man, Captain America, Thor and the rest of the powerful superheroes.
Being a fan of both, I would say that Batman does have a strong chance. It's been too long since fans of the comic book have seen the superhero, not to mention all of the hype surrounding The Dark Knight Rises for months. I'm routing for Nolan to go all the way.