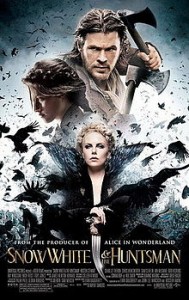 Snow White and the Huntsman will be jumping into the box office arena this weekend alongside heavyweights The Avengers and Men in Black 3. The sci-fi fantasy flick that seems to be geared towards the female population comes from director Rupert Sanders and stars Twilight's Kristen Stewart, Chris Hemsworth and Charlize Theron.
Initially thought of as the other Snow White movie, the action film looks to have better odds now that the lackluster picture Mirror Mirror that has come and gone quietly, only earning a domestic total of $62.5 million. The recent promo trailers for Snow White and the Huntsman has also earned some intrigue with its dark battle scenes, spinning the well known fairytale in a different direction that will most likely capture the attention of both teen and adult audiences.
According to some, the Joe Roth and Sam Mercer produced adventure tale will open at the box office, garnering only luke warm reception after the disappointment of Battleship from the same movie house, Universal, while movie critics and others have predicted that Snow White and the Huntsman will earn an estimated $30-40 million in its opening weekend, a figure that is also supported by the betting odds.
According to Box office odds available at Intertops Sportsbook, the line is set at +150 that the movie will bring in anywhere between $38-$45 million in its debut, a strong figure I see as a definite possibility. The same odds of +150 are also favored, confident that the epic battle story will rake in between $45-$52 million. The movie will be seen in over 3,500 theaters this weekend during its wide release, but will it appeal to that many?
The less favored odds (+200) believe that the movie will earn $52 million or more with +400 saying the flick will draw in less that $38 million during its opening weekend. How do you think Snow White and the Huntsman will do?
Like most movies you have to look at the appeal of the actors, its genre and the buzz surrounding the movie during its production phases. This latest Snow White tale seems to have it all and the fact that it features Twilight's reining actress Kristen Stewart means her loyal fan base will be flocking to theaters to catch a glimpse of Bella in her post Twilight role.