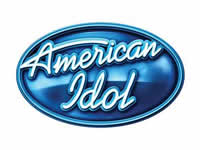 It continues to be an unlucky year for the men of American Idol. Down to the final six singers, Burnell Taylor was voted off during last night's results show. During Wednesday nights episode Taylor did little to extend his stay when he stiffly sang Bon Jovi's "You Give Love a Bad Name" in lieu of rock n' roll week.
The singer was obviously out of his comfort zone and it showed. Judge Keith Urban called it by telling Burnell that rock 'n roll was not his thing. Randy was also right on with his comments about Taylor "being behind the beat." Jimmy Lovine's comments were hilarious. "He was so behind the music. The band was on east coast time and he was on west time. He should be in the bottom two," Lovine said.
Judges Nicki Minaj and Mariah Carey only offered kind words, but didn't extend a save on Thursday night's episode when he fell into the bottom two, standing so side by side with Janelle Arthur after 25 million votes were cast. It was an uncomfortable moment when Arthur was informed that she was safe. Taylor then attempted to save himself by performing the song "Ready For Love", but the judges refused to give Burnell one last shot, keeping their save for a future contestant that would be more deserving.
The twitter verse was all full of sympathetic fans as well. Seventy-four percent urged the judges to save Taylor. The scene brought Mariah to tears with the judges coming to their feet to give him a standing ovation. With Burnell out of the competition following his own elimination there remains all female contestants with just one male left. American Idol will return next week on Wednesday with the final six contestants set to perform before Thursday's results are revealed. Betting odds to win American Idol will be formed for the next week likely over the weekend.