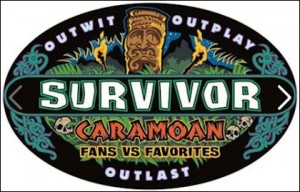 Survivor contestants entered into their twentieth day on the Caramoan Island this week. The Wednesday night episode picked up from where last week left off after the dismissal of Julia with the exciting new merge of the two tribes.
After the Gota tribe was transported to the Bikal tribe by boat, the group decided to take on a new identity following the union. Malcolm suggested that they name themselves after his mother Madeline, but backwards. Now known as Enil Edam, the drama began quickly for the competitors who started to make alliances after a somewhat calm sit down to eat sandwiches. Tensions were high most of the day with plenty of whispering and plotting.
Unfortunately, these back and forth games didn't pan out for Corrine, a decent manipulator, who was quick to make enemies when she began to plot Sherri and Phillip's exit, confiding in Dawn about her plan to knock the two out of the game. Before you knew it, Dawn was reporting back to Cochran. Andrea then made her way to talk to Phillip so that they could vote the backstabbing Corinne off of the island.
Before the blow was dealt to Corrine, the group came together for the tribal council meeting. At the meeting Reynold talked about people who weren't in the top three or four of an alliance, suggesting they should begin to strategize a plan to work with someone as a team. Sherri voiced her opinion that she didn't feel that the fans had a chance.
Jeff then proceeded to read the votes and Corinne was quickly out! She had seven votes against her compared to five votes against Sherri. She was shocked, Jeff snuffed her torch, and that was the end or Corrine. Survivor: Caramoan – Fans vs. Favorites – will be back next week on Wednesday night on CBS.
Betting Odds for Survivor Season 26 have not yet been formed, but TVShowBettingOdds will remain on top of them going forward throughout the rest of the season when they come out.