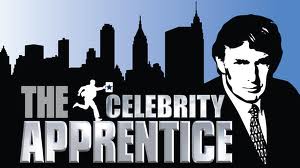 Team Power emerged as the losers once again in Celebrity Apprentice last night with Dennis Rodman fired by Trump. The episode kicked off with the two teams, Team Power and Team Plan B, going head to head on a challenge that involved Donald Trump's wife, Melania. The two teams had to come up with an ad campaign for Mrs. Trump's skin care line.
Meeting with both sides, Melania answered questions regarding the challenge. While Gary Busy was giddy in Melania's presence, Dennis Rodman seemed calm while asking her if he could see her personal bathroom where he could take a look at her beauty products. The exchange with Trump's wife was hilarious.
Unfortunately Rodman, who was team manager, lost focus after the group's talk with Melania. Team Power went downhill quick and overlooked one major detail in their campaign. In their slogan – "Simply Melania, Simply Luxury" – they misspelled the name of Donald Trump's wife, instantly making them the losers of the challenge.
Team Plan B and their project manager, Jillette, went with the slogan "Let your skin taste the luxury." Their work and Rodman's error gave them an easy win. The group was awarded $40,000 for the challenge. It seems Marilu Henner's blatant attempt to win over Trump with compliments about his wife was unnecessary.
Rodman didn't seem to upset over the team's loss, telling Trump "It sucks, but somebody's gotta win and somebody's gotta lose." Rodman tells Trump that he now has to choose between him and Adkins. After all it was Adkins who designed the product display. Prior to showing him the door, Trump refers to Rodman as the "comeback player of the year." Telling Rodman – "So Dennis, you're fired!"
Celebrity Apprentice will be back next week on Sunday with a new challenge, minus Rodman. Betting odds to win Celebrity Apprentice 6 have not yet been formed, but we will continue to be on the lookout.