Celebrity Apprentice Betting Odds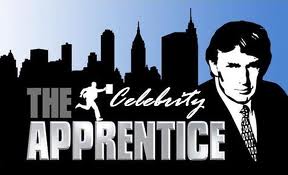 Donald Trump's The Apprentice started a very unique reality television show, bringing together some of the savvy businessmen and women from around the world together looking for one of the ultimate career moves. But after ratings for the original format of the show began to drop, Trump and company went back to the drawing board in hopes of keep the show alive. So what did they do? They brought on celebrities to compete against each other, thus creating the new series, The Celebrity Apprentice. And the show has been quite popular over the last six seasons. In fact overall, The Apprentice series is going into their 13th season. The Celebrity Apprentice brings in different celebrities each season to compete against each other on teams, with each looking to win the ultimate goal of being named Trump's Celebrity Apprentice winner. They break up into groups to complete various tasks presented to them during an episode, with the winning team getting a pass. The losing team is then forced to the board room for a decision on which member of the group will be fired and eliminated from the show.
Celebrity Apprentice Season 6 Info
Celebrity Apprentice 6 is slate to begin in May of 2013. The celebrity contestants have already been selected, which we will list here below.
Trace Adkins - Country Singer
Stephen Baldwin - Actor
Gary Busey - Actor
Marilu Henner - Actress
La Toya Jackson - Entertainer
Penn Jillette - Magician
Lil Jon - Rapper
Claudia Jordan - Model
Omarosa - Reality Star
Bret Michaels - Singer
Lisa Rinna - Actress
Brande Roderick - Playboy Playmate
Dennis Rodman - Former NBA players
Dee Snider - Singer
Vegas Betting Odds For The Celebrity Apprentice?
Betting Odds for Celebrity Apprentice could be formed right around the season premiere of the show. Premiering in May, we could see odds sometime in April. The celebrity contestants will be divided up into two teams, with the potential for odds to be formed on where the winning apprentice will come from. In addition, odds for each individual contestant could be formed at anytime during the show.
| Top Sites For Celebrity Apprentice Odds | Sportsbook Bonuses | Visit |
| --- | --- | --- |
| Bovada Sportsbook | 50% Match Bonus Good To $250 | VISIT |
| Bet365 Sportsbook - NO U.S.A. Players Allowed | 100% Match To 200 Dollars, Euros, etc... | VISIT |
| BetOnline Sportsbook | Lifetime 25% To $900 Deposit Bonuses | VISIT |
| Sportsbetting.ag | Up To $900 On All Reloads w/ 25% Match | VISIT |
| 5Dimes Sportsbook | 50% To $200 But Then Another 20% To $500 | VISIT |