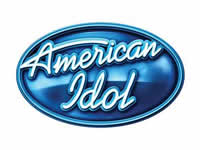 This week's American Idol presented fans with plenty of surprises during this week's countdown to the finale. Some of the major highlights of Wednesday and Thursday included the shocking elimination of fan favorite Angie Miller. The 19-year-old from Beverly, Massachusetts fell into the bottom slot with fans voting her out of the competition during Thursday night's results show.
On Wednesday Miller and top two finalists, Kree Harrison and Candice Glover, performed three songs each chosen by the Idol judges, Jimmy lovine and the producers of the Fox series. For the most part the song choices were good with the exception of some of lovine's selections. The trio all performed their hearts out, but it was Miller that America wanted to see out of the Idol fight. She was voted off the show, singing Colton Dixon's "Never Gone" at the close of the show. Harrison and Glover will compete one last time next before the final decision will be made for the winner of season 12.
While Miller's departure was sad to see, longtime American Idol viewers were also caught by surprise with Judge Randy Jackson's announcement during Thursday. After judging the Fox series since the start of the show, Jackson, one of the original judges left, revealed that season 12 would be his last. Jackson has decided to leave the series to pursue other entertainment ventures.
His announcement has been met with plenty of buzz as rumors circulate that Idol will undergo a drastic remake that will force the whole judges panel off the show with producers reportedly interested in starting next year fresh.
Idol will return next week with a 2 hour season finale that will feature singer Adam Lambert's secret duet and the new winner of season 12 as Kree Harrison and Candice Glover battle it out one last time. Who do you think will take home the title?
Expect betting odds to win American Idol to come out soon, as you can bet the lines will be in plenty of time for bettors to get in on the action. Be sure to check back with us here, as TVShowBettingOdds.com will have them!