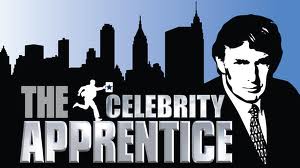 This week's difficult challenge for the two teams of Celebrity Apprentice included a silent film. With boardroom directors, Ivanka Trump and Donald Trump, Jr., the group's had to try their best to promote the popular Australian Gold products by shooting a 45-60 second clip to promote a product that eases the look of sun damage.
Now that Dennis Rodman is out, Team Power is down to just three. Their dwindling numbers prompt Trump to move Marilu Henner to Power where Gary Busey will take over the reins of project manager. Trace Adkins heads up the other team.
With Busey at the wheel the show quickly becomes comical! Busey talks about koalas getting high and other completely inappropriate things in front of the executives for Australian Gold and former Miss America Katie Stam. The situation is priceless!
Meanwhile, Adkins isn't doing much better. Lil Jon decides to take control to ensure that the team continues on their winning streak. The artist has past experience from a previous season where the teams dealt with an Australian Gold challenge.
Things turn hectic for the team when Plan B's Penn Jillette and Stephen Baldwin begin to bump heads over the production of the silent film and its editing. "Penn creeps me out," Baldwin said. "If he creates more problems and I gotta slap him upside the head, I'll just need a foot stool."
In the end, both teams create similar short films, but Team Power one ups Plan B with Stephen Baldwin fired!This was a tough one, Stephen, I'll be honest," said Mr. Trump. "But Stephen, you're fired!"
Are you surprised to see Baldwin sent packing? The head count is getting low with the competition now down to seven celebrities. Who will get the axe next week? Do you think Trump should have fired Baldwin?
TVShowBettingOdds will continue to follow the sixth season of Celebrity Apprentice and the odds to win the show, for which they have yet to be released.