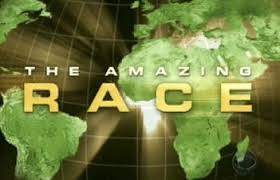 The Amazing Race season 22 returned last night after a week long hiatus due to the Country Music Awards. This week the contestants were racing through the frigid temperatures of Switzerland after the heat of Africa. The episode kicked off with 6 teams, but after an exciting night there are just five groups vying for prize.
This week the teams traveled by train before following the sounds of a horn for their next clue. Once they grabbed the clue by making their way across a wall rock to grab a clue from a Travelocity gnome, the final 6 had to use a sled to transport 200 pounds of cheese to a barn that is located down a snowy hill.
As the challenge continued the teams had to walk in the freezing cold up the hill to the top of a mountain before making their way back downhill backwards. Of course this wasn't all. They had to lug 200 pounds of cheese with a sled in the process. Being pushed around by cheese clearly looked like no fun at all! Bates and Anthony seemed to be on easy street with the challenge. Mona and Beth didn't appear to have hard time like the rest either. Max and Katie landed in third place, while Caroline and Jennifer finished just behind them. Joey and Meghan came in last. The pair actually walked to the ski school instead of taking a cab. The walk was miserable and so was the pair's uphill race with Meghan crying.
Chuck and Wynona were the weakest links in the challenge. The married couple received a 30 minute penalty after Wynona decided to break the rules by rolling her cheese down the hill during the challenge. The penalty, ultimately, cost the feuding couple a chance to continue in the Amazing Race competition.
Next week only 5 teams will compete in a new competition. Who will be the next team to go? Odds for The Amazing Race aren't out yet, but we are keeping an eye out and will bring you the latest.