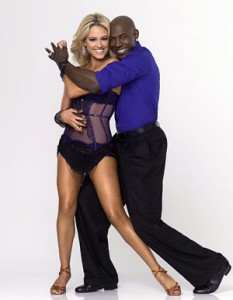 When the Dancing with the Stars contestant list is finally decided, it almost seems a guarantee that it will include a football player. The long list of Emmitt Smith, Jason Taylor, Ocho, Warren Sapp, Hines Ward, Jerry Rice, and Kurt Warner just got a little longer with Donald Driver joining the cast. Driver is the old reliable receiver on the Green Bay Packers that has the longest tooth on the team. Even with the experience of a career built on great footwork, his odds of making a smooth transition to dance are predicting he's no Emmitt Smith. Bovada.com is putting Driver behind William Levy and Jaleel White with 5/1 odds to win Dancing With The Stars.
A 7th-round draft pick in 1999 by the Packers, Driver has definitely given the Packers their money's worth posting several 1,000-yard receiving seasons with the old Green Bay quarterback whom will not be named. With 4 pro bowls, a super bowl ring, and an all-pro selection on his resume, Driver has built a reputation of being the toughest man on the field. Now 37, he has been slowed in games by nagging injuries and has been noticeably getting slower, turning him into a short-route type of receiver that still finds ways to be productive. I'm sure Aaron Rodgers notices every play that he is not in, because he doesn't have his safety net in Driver. People have constantly praised his will to compete and his work ethic throughout his career, things that can carry over into anything he does. But does that work ethic include learning the cha-cha? After 13 years in the NFL, Driver has had to go through so many film sessions learning coverages, monitoring his own play with some interest in his footwork. On Dancing with the Stars, the film room will not be dissecting the 49ers defense, but rather his turns on his waltz.
Driver has always been in great shape all throughout his career and has played a position in which good footwork is a must if you want to stay around. However, we have seen how difficult it is to succeed at with Jerry Rice, Hines Ward, and Ochocinco. Personally, after watching Driver throughout his career I do believe he has great footwork and will look a lot more like Emmitt Smith, who was way too good at dancing. With Driver's career winding down, maybe he will realize his true love is dance. Maybe this competition, judged mainly on footwork, will improve his skill set to boost his career another 3 years to 40. All I know is that he is going up against Gladys Knight, Steve Urkel, and a bunch of the people you won't know until you see their faces so he'd better finish top 3. Knight has 10/1 odds to wear the crown, with Urkel at 9/2, and favorite William Levy with 4/1. Oh, and Maria Menounos so that doesn't hurt the ratings.
Dancing With The Stars Season 14 Odds – found at Bovada Sportsbook on March 12th, 2012