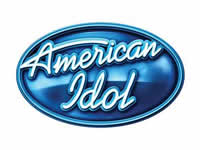 American Idol's Janelle Arthur is no longer a finalist in the Fox competition. Arthur was voted out of the competition last night after the singer's Wednesday night performance just wasn't enough to keep her in the race as the season comes to a close.
During Wednesday night's show, Arthur took part in the Idol themed competition that had each of the ladies singing songs from the year of their birth. Arthur, who was born in 1989, chose to sing Vince Gill's "When I Call Your Name," with the country singer saying that the well known track always made her stop crying.
Right after her round 1 performance Arthur was commended by the trio of Minaj, Jackson and Carey, but Urban, didn't agree, saying that the singer could have performed better without her guitar. "Maybe it's a girl thing, but you brought me to tears," Carey said.
Jim Iovine was in town for the top-five performances, as he has been on many of the season's in the past. The Co-founder of Interscope Records was impressed with all of the girls throughout the week as he got to know them. But he echoed the sentiments of some of the other judges for Arthur's performance stating, "started to sound like 'Row, Row, Row, Your Boat." Iovine then shared his thoughts that Arthur needs to pick something more emotional for her second round.
Unaware of Iovine's suggestions prior to selecting her round 2 song, Arthur sang Dolly Parton's "Dumb Blonde." Judge Keith Urban was less than impressed. "I don't know that I would put 'Dumb Blonde' way up in the Dolly Parton songbook." Minaj then shared that she thought Arthur was in jeopardy and could be going home this week.
Minaj then attempted to give Arthur a boost of confidence. "You need to know that you are great," very lovable, and could go far in the world, even if she doesn't make it much further on the show." Minaj's words came true in Thursday night's show when Arthur was eliminated by voters without a judges save to send her into next week's competition.
The departure of Arthur should not come as a surprise to anyone who has followed the betting lines to win American Idol Season 12. Entering this week, she was the biggest underdog of the group, paying out at 15 to 1 should she pull off the upset by winning the competition. It was an uphill climb for her, and oddsmakers took notice.
And while the odds to win American Idol have yet to be reformed for the top-four, you can bet that Amber Holcomb will be on notice. She is the next contestant on the list who was in front of Arthur. The top-three girls are all right close to each other, with Holcomb now the lone singer with long odds.