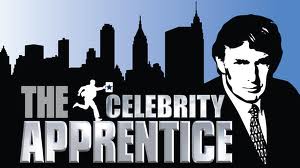 Gary Busy is looking invisible these days! The actor and his team, Plan B, managed to win this week's challenge with model Brande Roderick sent home by Donald Trump. While I would have guessed a win for Roderick's team after watching the hilarious Busey far from focused, the model was sent packing following Team Power's presentation to South African executives and a group of travel experts. Meanwhile, Rinna and Jillette did the best they could to get Busey on track and motivated for a win.
For this week's challenge each team had to come up with an exciting and eye appealing ad campaign for a travel expo for South African tourism. Plan B decided to put together a promotion that included Zulu dancers, drummers and a talented South African chef who wowed the crowd with samples.
Team Power opted for a different route, using a pretend zip line, a caged shark and creative pamphlets. Roderick, Lil Jon, Marilu Henner, and Trace Adkins were all about making "memories." Unfortunately the results were declared a bit immature with the team losing out to Plan B!
In the boardroom, Roderick was said to be an effective leader with her teammate Adkins sharing in the blame for the team's loss by stating that they had trouble choosing a direction and keeping focus. Lil Jon, who left the boardroom, said that they did the best they could with the challenge while Henner took credit for the pamphlet that executives found the highlight of the group's efforts.
In the end of the episode Roderick refused to say who on her team should be fired with the Trump deciding she was the one to go, as all of her team members weren't to blame for the group's loss. Roderick's exit leaves Apprentice with just six celebrities left! Who's strong enough to become the winner?
Odds for Celebrity Apprentice are currently off, but be sure to check back with us when they appear, we will have the latest lines.