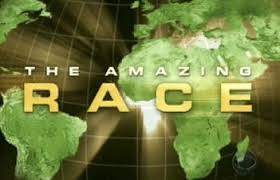 The Amazing Race contestants all traveled to Germany in the latest episode of the competition. Since this was a non-eliminating leg no-one was sent home, but if there was a couple to go home it would have most likely been Beth and Mona. The two came in at fifth place after a confusing and intense trek to Dresden.
The remaining remaining couples, all out to win the $1 million dollar price, arrived in Germany where they had to report immediately to the cars to get their next clue. Once the couple's buckled up for a drive they were asked 3 questions relative to the race. After answering accurately they were of or the rest of the race which gets a little scary. They need to base fly off of the top of a building.
These five are gutsy, but they all move forward to pick their next challenge which includes a choice between building a train trail bringing two gigantic letters to a museum. This challenge goes awry for both Bates and Anthony, who end up breaking a letter!
Up next, after some tedious and nerve wracking challenges, everyone ends up at a night club. While there they must identify a famous JFK Berliner quote before searching a labyrinth for their next clue. Max and Katie end up coming in at first place with a reward of a two fully loaded 2013 Ford Fusions. Joey and Meghan come in second followed by Caroline and Jennifer. Bates and Anthony and Beth and Mona land in fourth and fifth place.
Both teams had a rough time with this latest round of challenges. Luckily no-one is going home. One couple will meet their fate when Amazing Race returns next week with another couple going home. The season finale is scheduled for May 5th. Odds to win The Amazing Race are not up, but we will continue to recap the episodes and when the odds do come out will release them.