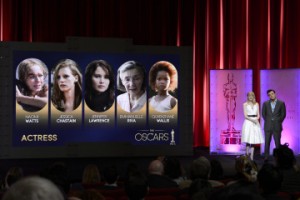 This year's category for best actress at the 2013 Oscars should prove to be an interesting one with the unique age group between nominees, as pointed out by the L.A. Times.
For the first time in history the contenders range from as young as 9-year-old Quvenzhane Wallace, who played Hushpuppy in Beasts of the Southern Wild, to 84-year-old veteran performer Emmanuelle Riva of Amour, who will turn 86 on the day of the Academy Awards. Sitting in the middle is 35-year-old Zero Dark Thirty star Jessica Chastain, the 22-year-old Jennifer Lawrence for her role and the Silver Linings Playbook and Naomi Watts. The 44-year-old has also been nominated for best actress for her work in The Impossible.
While this year's talented Oscar pool covers a unique range of performers from different backgrounds and ages, only one actress will walk away with an award. As far as predictions go many are looking to Jessica Chastain and Jennifer Lawrence to come out on top.
Chastain, who has previously been nominated for an Oscar for her role in The Help, could easily take the night thanks to her portrayal as the CIA analyst Maya in Director Kathryn Bigelow's highly controversial film Zero Dark Thirty. It doesn't hurt that the actress is currently ruling the box office as well with her latest turn in the horror movie Mama that also has audiences talking. It appears Chastain is at the moment – Hollywood's most in demand actress, aside from the likes of Jennifer Lawrence who just beat Chastain at this weekend's SAG awards for best actress.
With Lawrence's Silver Linings Playbook still staying steady since the film's release back on Christmas Day, the David O. Russell drama has managed to keep the actress in the headlines for her portrayal as an eccentric widow. Like Chastain, this is also the second nomination for the Hunger Games star who came out on top at the 2013 Golden Globe Awards as well. At the moment it appears to be quite a year ahead for Lawrence and Chastain, unless in a surprise twist, the pair find themselves at a loss against their Oscar worthy counterparts.
The 85th Academy Awards will air live on ABC, February 24th.