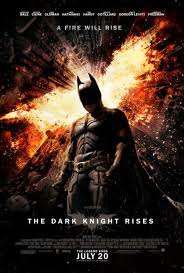 The Dark Knight Rises doesn't officially sail into theaters until July 20th but already tickets will go on sale for the Christopher Nolan picture this coming Monday, June 11th. There's something to be said about fans buying their seat a month in advance. But considering the warm reception the movie scored recently after fans were treated to a sneak peek presented by some of its star cast at last weekend's 2012 MTV Movie Awards this isn't a big surprise.
The last Batman movie of the trilogy is expected to earn millions, maybe even billions, in its latest installment. Looking back at the history of the other two previous movies, both 2005's Batman Begins and 2008's The Dark Knight, this shouldn't be difficult. While Batman Begins has grossed $372,710,015 on a global scale to date, things only got better for The Dark Knight that raked in $1,001,921,825.
Batman does have surprising enemies other than Bane to conquer though if he wants to make history and reach past that $1 billion mark again. Most recently the powerful superhero bunch, The Avengers, currently holds the no. 3 spot (according to Box Office Mojo) on the list of the top 5 all time grossing movies with worldwide figures of $1,361.5 billion. James Cameron's Avatar is still sitting firmly at no. 1 with an insane $2,782.3 billion followed by the well known classic story, Titanic, at no. 2 with $2,185.4 billion.
Filling in the 4th and 5th spot on the list is Harry Potter and the Deathly Hallows Part 2 with $1,328.1 billion, and Transformers: Dark of the Moon with sales of $1,123.7 billion. Both franchises, with Harry Potter being the end of a saga, gives hope to The Dark Knight Rises.
Looking at the odds many would agree that the highly anticipated picture will be a success with Movie Prop Odds available at BetOnline Sportsbook set at +185 favoring that the movie will in fact break box office records when it arrives in theaters this summer, especially with the film being lead by actors Christian Bale and Anne Hathaway.
The odds that Christopher Nolan's Batman will not break records stands at -225, with many citing that the last installment only managed to pull in millions due to curious movie goers all looking to get one last glimpse at the late Heath Leger's performance as the Joker.
In my opinion The Dark Knight Rises will break records. I don't know if it can surpass Cameron's Avatar but I think it will beat out The Avengers who look to have just warmed up the crowd that are all ready to see Batman at his best in Nolan's always creative world